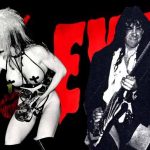 Rhiannon has been featured on international magazine covers for years. Her very first major magazine cover was the Holiday issue of Nugget magazine. Nugget was a main stream fetish magazine that could be found of store shelves right next to Playboy and Penthouse. And, for over 10 years Rhiannon wrote a column in Nugget called "A Day in the Life".
Nugget was only the beginning. From there she was featured on cover for Gent, Busty Beauties, D-Cup, Cleavage, and many more. Of course, she was in dozens of magazines in which she wasn't on the cover.
In 2005 Rhiannon, along with Anton Fury created Cleavage magazine, which ran quarterly for 5 issues. From 2005 to 2012 he was made associate Editor of Gent, D-Cup and Busty Beauties.
All of these magazines can be found right here.
---
***All Magazines Personally Autographed by Rhiannon***