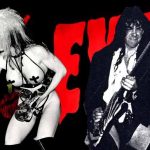 Vintage Vinyl
There is never a dull moment when you are collecting rare records. It's a incredible feeling when you're flipping through stacks of records and you come across that one album that you held in your hands years and years ago. Recorded music today, with compact disks and downloads will never give the user to extreme pleasure that we had when we first peeled off the cellophane of the newest Led Zeppelin album, placed the platter on the turntable and settled back to experience the music, while devouring every little facet of the album cover, from the jacket, to the liner notes. You certainly can't do that with a CD.
Record albums were complete works of art. It told a story, even if it wasn't a "concept" album, it told you "where" the artist was when they recorded it, both musically, and mentally. With most bands, each album had a flow, and a specific feel. Think The Beatles Rubber Soul to Revolver to Sgt. Pepper to The White Album… total works, start to finish… totally different feels. The same can be said for Led Zeppelin I, II, III, IV, Houses of the Holy, Physical Graffiti and In Through the Out Door. Every album a unique feel and a unique sound. Most don't buy albums today, they download songs. Most pop artists don't even think in albums, they think in singles. It's sad for those that never got to live with a true album experience.
You may have noticed that in recent years, vinyl has made a comeback. There are tons of classic albums available, from Beatles to ZZ-Top, as well as many current artists putting out new releases. While Compact Disks have improved their tonal quality a great deal from when they were first produced in the early 1980s, there is still nothing like vinyl. The tone of old rare records, even with the pops and skips not only sounds great, but it can actually transport you back to a time when a particular record meant something to you. We all had those records that were prevalent at a given event, with a certain girlfriend or a happy time.
To find rare records for your collection, you have a few options. You can purchase the re-releases or new releases at a very few brick and mortar stores, but their selection is very limited and the prices for a single album are quite high. There are a few actual record stores around, which is great, if you can find one. But for inventory, price and convenience, buying vinyl records online is the way to go.
---
---
Goldmine Record Grading System
Mint [M]: Absolutely perfect in every way – certainly never played, possibly even still sealed. (More on still sealed below). Should be used sparingly as a grade, if at all.
Near Mint [NM or M-]: A nearly perfect record. Many dealers won't give a grade higher than this implying (perhaps correctly) that no record is ever truly perfect. The record shows no obvious sign of wear. A 45 rpm sleeve has no more than the most minor defects, such as almost invisible ring wear or other signs of slight handling.
An LP jacket has no creases, folds, seam splits or any other noticeable similar defect. No cut-out holes, either. And of course, the same is true of any other inserts, such as posters, lyric sleeves, and the like. Basically, Near Mint looks as if you just got it home from a new record store and removed the shrink wrap.
Very Good Plus [VG+]: Shows some signs that it was played and otherwise handled by a previous owner who took good care of it. Record surfaces may show some slight signs of wear and may have slight scuffs or very light scratches that don't affect one's listening experience. Slight warps that do not affect the sound are OK.
The label may have some ring wear or discoloration, but is should be barely noticeable. The center hole is not misshapen by repeated play. Picture sleeves and LP inner sleeves will have some slight wear, lightly turn-up corners, or a slight seam-split. An LP jacket my have slight signs of wear also and may be marred by a cut-out hole, indentation or corner indicating it was taken out of print and sold at a discount.
In general, if not for a couple of minor things wrong with it, this would be Near Mint. All but the most mint-crazy collectors will find a Very Good Plus record highly acceptable.
Very Good [VG]: Many of the defects found in a VG+ record are more pronounced in a VG disc. Surface noise is evident upon playing, especially in soft passages and during the song's intro and fade, but will not overpower the music otherwise. Groove wear will start to be noticeable, as will light scratches deep enough to feel with a fingernail) that will affect the sound.
Labels may be marred by writing, or have tape or stickers (or their residue) attached. The same will be true of picture sleeves or LP covers. However, it will not have all of these problems at the same time, only two or three of them.
Good [G], Good Plus [G+]: Good does not mean bad! A record in Good or Good Plus condition can be put onto a turntable and will play through without skipping. But it will have significant surface noise and scratches and visible groove wear.
A jacket or sleeve has seam splits, especially at the bottom or on the spine. Tape, writing, ring wear or other defects will start to overwhelm the object. If it's a common item, you'll probably find another copy in better shape eventually. Pass it up. But if it's something you have been seeking for years, and the price is right, get it.
Poor [P], Fair [F]: The record is cracked, badly warped, and won't play through without skipping or repeating. The picture sleeve is water damaged, split on all three seams and heavily marred by wear and/or writing. The LP jacket barely keeps the LP inside it. Inner sleeves are fully seam split, and written upon.
Except for impossibly rare records otherwise unattainable, records in this condition should be bought or sold for no more than a few cents each.
Still Sealed [SS]: Let the buyer beware, unless it's a U.S. pressing from the last 10-15 years or so. It's too easy to reseal on. Yes, some legitimately never-opened LPs from the 1960s still exist. But if you're looking for a specific pressing, the only way you can know for sure is to open the record. Also, European imports are not factory-sealed, so if you see them advertised as sealed, someone other than the manufacturer sealed them.