Rock N Roll Memorabilia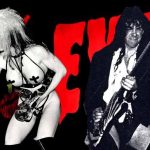 s killed?" story about the first time they heard Elvis. There were millions of 12 years olds that watched The Beatles on Ed Sullivan, and got their parents to buy them guitars the next day. The Beatles were the best thing that ever happened to the musical instrument industry.
So, needless to say, there is a lot of Rock N Roll Memorabilia out there from the last 60 years. While there is a good amount out there from Elvis, it was The Beatles that truly turned it into a huge business. And then Kiss took it way over the top, which they both continue to do to this day.
Like records, your Rock N Roll memorabilia collection is never ending. We will be adding items every day, so keep watching.
---
Showing all 8 results